Max Winfrey For Hire

Corporate

Entertainment
Clean comedy with big laughs for your corporate event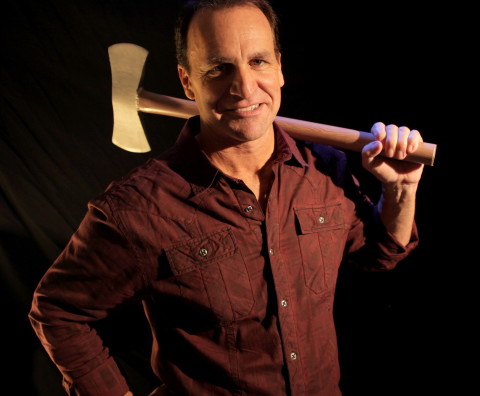 Max Winfrey: Comedian for Hire
You need a clean entertainer / speaker who can deliver no matter what your audience demographic is.
Max Winfrey has the experience and knowledge required to tailor his performance to fit your company's needs.
Whether its promoting your product or incorporating your CEO or sales person into the stage show, Max can pull it off.
His interactive show is designed to be customized on the fly–able to adapt to the style, theme, and time allotted for your event. Max has become the go-to-guy for meeting planners nationwide.
With this kind of experience, it's easy to see why Bristol Meyers, McDonald Douglas, FedEx, Texaco, American Express and many others have counted on him to deliver that knock out punch to their program.

As Seen On NBC'S America's Got Talent

Good Clean Fun For Your Entire Group
THINK FAST!
You'd better if you're gonna sit within sight of Max Winfrey at his show.
That can come in handy if you see a bowling ball flying toward your head. Or – When you find yourself on stage in the world's only audience participatory knife throwing act.
With a gift for high-speed wit and off-the-wall skills like kitchen sink juggling, Max has carved out a unique niche as a Stunt Comedian.
Max has toured all over the U.S. and Canada and has performed for many of the top Fortune 500 Companies. He has made numerous appearances on national television and was recently a semi finalist on NBC's America's Got Talent.
Check out Max on Youtube.
Show Length and Format
Show lengths can be tailored to the needs of your event.
A typical show usually lasts about 45 minutes to an hour.
• 17 years experience as a Headliner for Disney Cruise Lines
• A clean comedian with Network National Television exposure
• An act offering broad appeal regardless of age or demographic
See Max in Action
Quick Clips and Quips
High-speed wit and off-the-wall skills make Max a true Stunt Comedian.


Axe Juggling World Record
Watch Max set the new Guinness World Record for most consecutive axe juggling catches (163). The previous record was 84 catches.


Max's Corporate Demo
Your employees will love the stunts and interactive comedy from Max's stage performance.
TESTIMONIALS
Max Winfrey is the real deal and the total package. We had Max in for our annual Upward Basketball Banquet and we were blown away. Max was able to connect and keep the attention of the entire crowd, which include ages from five to fifty. Max is a professional and it shows, both on the stage and off the stage. I have worked with a number of entertainers and Max is one of the most personable and easy to work with as any I have encountered.

Max was not in a hurry to get away but stayed until he had spoken with everyone who wanted to talk with him, and signed many autographs for all the kids. I would highly recommend Max for any group and for any event. We would have no hesitation in bringing him in again and will plan to do so.

Joe Lemmons | New Symerna Beach, FL
There are very few comedians that I believe offer good clean fun. Max Winfrey is at the top of the list! While most comedians require music and special effects, Max just appears on the stage and within minutes has everyone splitting their sides with laughter. Here's the kicker — the laughter doesn't stop.

Max has the innate ability to connect with people of all ages. Young or old, his presentation reaches everyone, his acrobatics are amazing, his stunts are thrilling..

.. No music, No special effects, No magic show—Just good clean fun!

Dave Bowering | Adrian, MI
USE THIS FORM TO CHECK MAX'S AVAILABILITY